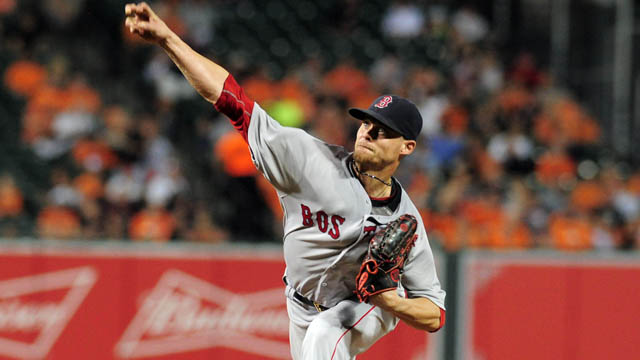 To say Clay Buchholz's 2016 season has been a roller coaster would be an insult to roller coasters.
The Red Sox right-hander has had some up-and-down campaigns in Boston, but this year has been especially tumultuous, featuring a rough first two months and three separate stints in the bullpen. Roller coasters also have high points, though, and Buchholz certainly is on one now.
Buchholz delivered another solid start for the Red Sox on Wednesday night, limiting the Baltimore Orioles to one run on just three hits over seven innings at Camden Yards to lift Boston to its seventh consecutive win.
"He never let the game speed up on him," Red Sox manager John Farrell said after the game, as aired on NESN's "Extra Innings LIVE." "I think it goes back to him being more consistent and pitching exclusively out of the stretch. His key pitches with men obviously are in that position. He had a good cutter, a good changeup, a good four-pitch mix (Wednesday) that he could go to."
Buchholz made a mid-season adjustment to start pitching out of the stretch, which yielded positive results. He held opponents scoreless over five consecutive relief appearances in late July and early August, then allowed a total of five runs over three starts in a return to the rotation. The veteran has taken that success into Boston's stretch run: He's now 4-0 with a 3.08 ERA in his last five starts.
"I know it wasn't going to be bad all year," Buchholz said after the game, as aired on NESN. "There was a stretch that I didn't really know what was going on and I didn't know how to fix it. And when I tried to fix it, I was trying too hard and overdoing a lot of things, over-analyzing.
"It kind of takes a couple games to get some confidence going in the right direction, and it's fun pitching when everything's going good, especially when you're winning."
The Red Sox easily could have thrown in the towel on Buchholz after his early season struggles. But with starters Eduardo Rodriguez and Steven Wright missing starts due to injury, Farrell and Co. turned to the embattled right-hander. With increasingly fewer exceptions, he's delivered.
"When many were calling for his head, we knew that there was a talented guy here, and we needed to get him on track," Farrell said of Buchholz. "To his credit, as we've said many times, he went to the bullpen, he worked some things out, and he's pitching his best baseball of the season right now."
Click for the Red Sox Wrap >>
Let's hit a few other notes from Red Sox-Orioles:
— The Red Sox got plenty of help from around the league Wednesday night, as several playoff contenders lost. Their magic number to clinch the American League East is down to six, as they hold a season-high five-game lead over the second place Toronto Blue Jays.
Boston has home field advantage in its sights, as well: The team is just 1 1/2 games behind the Texas Rangers for the best record in the AL.
— Andrew Benintendi showed off some serious dance moves after Wednesday's win. But there's a story behind the Red Sox outfielder channeling his inner Michael Jackson, and WEEI.com's Rob Bradford investigated after the game.
"I grew up watching (Jackson) on YouTube, his dances," Benintendi told Bradford. "I thought it would be quick enough to do out there. Just wanted to add a little fun to that."
— The Red Sox have just 10 games left in the regular season, but they're still holding out hope that Steven Wright can return. The right-handed knuckleballer played long toss before Wednesday's game and could throw a bullpen at some point during Boston's weekend series at the Tampa Bay Rays.
"By the way he's kind of advancing here, we'd expect him to be able to get on the mound," Farrell said, via the Boston Herald. "That's subjectively my view. Something may happen between now and then but hopefully he gets on the mound this weekend and he's up there with us."
Thumbnail photo via Evan Habeeb/USA TODAY Sports Images