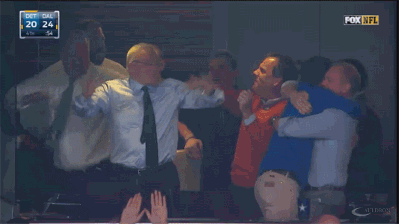 Things got super awkward in Jerry Jones' box at AT&T Stadium on Sunday.
After the Dallas Cowboys defeated the Detroit Lions 24-20 in their NFC wild-card round matchup, the team's owner was obviously ecstatic. And from that excitement, one of the most awkward group hugs of all time was born, thanks to New Jersey Governor Chris Christie.
Christie, a lifelong Cowboys fan, enjoyed the game with Jones from the owner's VIP box. When Dallas won, Christie joined in on a hug between Jones and his son, Stephen Jones, and needless to say, it was uncomfortable.
We apologize if you have trouble erasing that image from your memory.
Luckily, their divisional round game will be against the Green Bay Packers at Lambeau Field, where Christie likely won't have a seat.
GIF via imgur
Next Article >> Tony Romo, Cowboys Rally Past…